The countdown has started –
a quick quiz on the GDPR
Legal requirements | 21. DEC 2017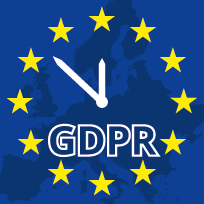 There is not long left before May 25, 2018. That is when the new European General Data Protection Regulation (GDPR) comes into effect. The purpose of the GDPR is to impose rules governing the protection of natural persons when personal information is processed and the free movement of such data.
Threat of fines ensures implementation cannot be postponed
The Regulation is attracting a lot of attention at the moment, a significant amount of which emanates from the article it contains on potential fines for non-compliance. Penalties of up to €20 million or 4% of the total annual global turnover achieved in the previous financial year will ensure that companies literally cannot afford to ignore the new rulings.
Source: Regulation (EU) 2016/679 from 27 April 2016
Click here for further information on the EU General Data Protection Regulation:
GDPR as an impetus for email encryption projects
EU General Data Protection Regulation in less than 5 minutes