+++

press release

+++
Zertificon presents new release of integrated password based email encryption at CeBIT 2013
Berlin, 06. March 2013
Zertificon, the leading German email encryption specialist, releases Z1 Messenger 3.0 just in time for the CeBIT 2013 (March 5-9 in Hannover/Germany). Z1 Messenger is a component responsible for password based encryption inside the renowned Z1 SecureMail Gateway email encryption solution. Z1 Messenger enables a highly automated confidential password protected email communication with anyone without the need of encryption keys and certificates. Version 3.0 comes with a new design, new features, improved integration and performance.
Password based email encryption is the solution whenever the usage of a Public Key Infrastructure (PKI) is economically not efficient or can not be realized as it is usually the case in business-to-consumer communication. In order to meet individual customer requirements as well as to adapt to all possible external recipient's environments Z1 Messenger provides several delivery methods such as password encrypted PDF files or Z1 WebSafe – a secure webmail solution.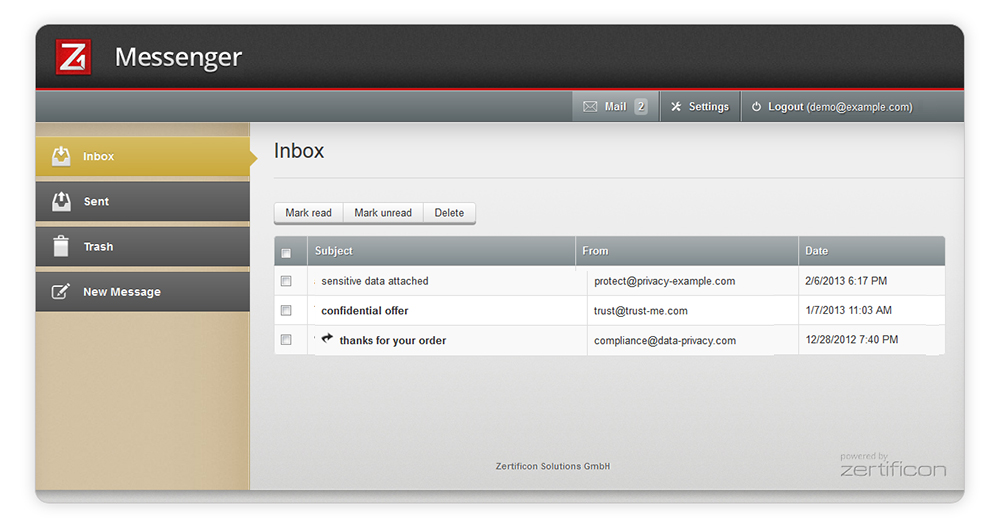 The state of the art Z1 Messenger password management ensures both: password security on the one hand and practicability on the other. The Password Policy sets mandatory security requirements, there is an automated password transmission via SMS and an efficient self-service password reset for users which removes the need for a help-desk completely.
Version 3.0 includes new features such as reading confirmations and message tracking for internal users as well as signatures for initial Z1 Messenger notifications. The configuration of text resources and additions to the available languages is comfortably manageable via Admin Web Client. Z1 Messenger integration into already existing customer portals has been made easier, the interface can be adapted to any corporate design, and single-sign-on processes are also supported.
Last but not least, the new Z1 cluster technology improves Z1 Messenger's performance and scalability. Z1 Messenger can manage mass production by automated systems (e.g SAP) and easily deliver every single message including attachments according to individually configured delivery policies.
Zertificon product management focuses on easy administration and integration and offers very flexible licensing. This guarantees that Z1 SecureMail Gateway as well as the Z1 Messenger extension can be run efficiently by enterprises of all trades and sizes. Zertificon is exhibiting at the CeBIT in Hall 12, stand D38.