+++

press release

+++
Z1 SecureHub 1.4 Release: Large File Transfer – easily and securely
Berlin, 15. May 2014
Z1 SecureHub made by the email encryption specialists at Zertificon Solutions has been developed for situations where large files with sensitive data have to be sent to different recipients in real time. Release 1.4 is available now.
Z1 SecureHub is an application which enables people to securely exchange large files. Files are uploaded onto Z1 SecureHub via HTTPS. After the upload is completed, a link is sent via email to the recipient. This link allows the download of the files. The files are stored in an encrypted state with no chance for unauthorized access. Additional password protection can be set in the upload process. Z1 SecureHub is easy to use. No software installation or registration process is needed for the webbased solution. An AddIn for MS Outlook or Lotus Notes is additionally available.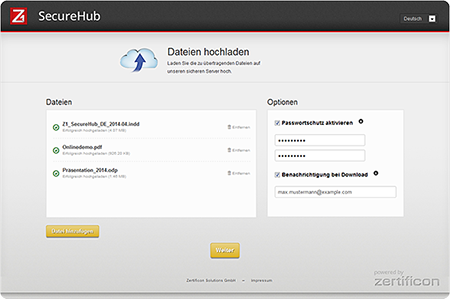 The latest SecureHub release has been enriched with the following features:
Multiple File Upload supports the upload of several files which can be downloaded by the recipient either one by one or as one single zip archive. Files can be sent to several recipients in parallel.
A text field for comments has been provided with the file upload page. The content is sent along inside the notification email to the recipient.
Administrators will appreciate the well-structured user interface. The monitoring is comprehensive, all processes inside Z1 SecureHub are easily traceable and administrators are provided with the means to keep Z1 SecureHub very efficient with regard to storage space.