+++

press release

+++
Encryption for confidential emails right from the start – even on Smartphone
Berlin, 01. June 2015
A popular misconception is that secure email exchange is very complicated and not suitable for spontaneous communication with 3rd parties. As a result of the NSA scandal, this mindset has become more and more established. As a counter to NSA snooping, OpenPGP has been in the limelight and tutorials using OpenPGP dominate internet forums and the popular press. Using OpenPGP however requires that both communication partners have agreed upon an encryption method, that all the necessary software is installed and that keys have been created, signed and exchanged. Although OpenPGP has been freely available for years, it has not become universally popular due to its complexity and limited scalability. For efficient use within corporations there is a proven alternative that doesn't even require encryption keys.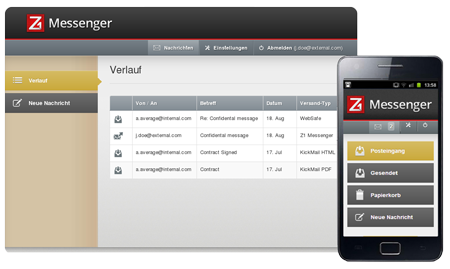 Zertificon's Z1 SecureMail Gateway couples password-based with certificate-based encryption to deliver streamlined, secure & spontaneous email communication with anyone. If no encryption certificate or public PGP key can be found emails are delivered as encrypted PDF files or as secure HTML email attachments. Alternatively, secure emails are delivered via Z1 WebSafe – an HTTPS secured web mailer which automatically creates accounts for recipients. Account notifications and passwords are delivered to the recipient via a separate channel such as SMS. Recipients can not only receive emails via the web mailer, but can also reply directly.
This password based delivery functions without extra software or apps on mobile devices. The recipient only requires a standard web browser and PDF reader which are commonly available on most computers and phones.
In the mid-2000's, Zertificon's innovative solution for password based encryption was a watershed for the industry. Today the solution can be found in other products on the market under the name of "Push/Pull" technology.
The latest development from Zertificon is the combination of password based encryption with end-to-end encryption. The flexible outbound encryption is combined with certificate based encryption within the company network. This so called "Organizational End2End" solution provides companies and organizations with compliance conform day-to-day email security. In addition, the solution includes a pure certificate based end-to-end encryption from within the company network directly to the external recipient.
To better understand the complex issue of end-to-end encryption have a look at our latest white paper "End-to-End Email Encryption for Everybody? Why private individuals and corporations need different solutions" which can be downloaded for free from: www.zertificon.com/en/whitepaper.