+++

press release

+++
Zertificon Solutions receives the "IT Security made in Germany 2015" quality seal
Berlin, 29. January 2015
The email encryption specialist Zertificon Solutions once again received the renowned "IT Security made in Germany" quality seal from the IT security association TeleTrusT.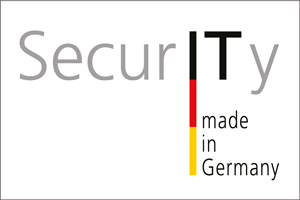 The quality seal is only given to companies which manufacture trusted IT security solutions without any hidden back doors, comply with all German data protection laws and develop their software exclusively in Germany.
Zertificon's "Z1 product suite" for email encryption, PKI certificate management and for secure file transfer is developed exclusively at Zertificon's headquarters in Berlin and meet all of TeleTrust's conditions.
The trust placed in German IT security solutions is underpinned by Zertificon's use of the S/MIME and OpenPGP international standards which can be found throughout the Z1 product range. For Zertificon's clients this means the highest level of security coupled with high efficiency and maximum investment security.
Zertificon will continue to apply for the quality seal as long as the legal basis for IT security from Germany meets the accustomed high quality standards.
"IT Security made in Germany" was created in 2005 on the initiative of the interior ministry as well as the ministry for economic affairs and technology and has been run since 2011 by the TeleTrusT association.
The certificate can be viewed at
www.zertificon.com/en/company/association-memberships.