+++

press release

+++
Zertificon releases Z1 SecureMail Gateway 4.12, bringing new usability features for administrators
Berlin, 05. October 2017
The German email encryption expert Zertificon Solutions has released Z1 SecureMail Gateway 4.12. Notable technical improvements include a Policy Wizard and the LDAP authentication for administrators. Further optimization has been applied to reporting, monitoring and alerting. It additionally integrates Zertificon's EDI@Energy module for the highly regulated secure market communication in the German energy sector.
Z1 SecureMail Gateway is a proven central server solution for email encryption and signatures employed by more than 20% of Germany's 100 highest-grossing businesses. In addition to the international standards for certificate-based encryption, S/MIME and OpenPGP, the Gateway also supports certificate-free encryption to allow secure communication with recipients who do not possess encryption certificates. Here, passwords are used to enable access to secure mailboxes and encrypted PDFs.
Z1 SecureMail Gateway fully automates key, certificate and password management. Encryption is centrally controlled, based on company-wide security policies. Staff members generally have no contact with Z1 SecureMail Gateway.
The new release 4.12 contains numerous small and large improvements for administrators' usability. One helpful addition is the Policy Wizard. The Policy Wizard provides step by step guidance when establishing new policies, domains and entities, noticeably reducing work time. Furthermore system and error notifications have been improved, the administration of user licenses has been simplified and menu structures in the administrator's interface have been unified. The release contains more than 60 optimizations. Within these there is a strong focus on improving the administrator's user experience.
CEO Dr. Burkhard Wiegel explains:
"Rarely do IT security and user comfort go hand in hand, and it is precisely this discrepancy that engenders security leaks. We ensure that end-users have practically no contact with our products, while designing administrator's tasks to be as convenient as possible. For us, this encompasses top efficiency in carrying out even irregular, exceptional configuration tasks."
By establishing an LDAP connection for the authentication of administrators Z1 SecureMail Gateway is even better suited for use in large-scale enterprises. This feature is just one more reason for corporations and service providers to employ this encryption solution.
With Z1 SecureMail Gateway release 4.12 the EDI@Energy market communication module 2017, which had been published separately in May 2017, has now been fully integrated. ​This module allows
participants of the German energy sector to easily exchange e-mails in compliance with the new strict energy market communication regulations.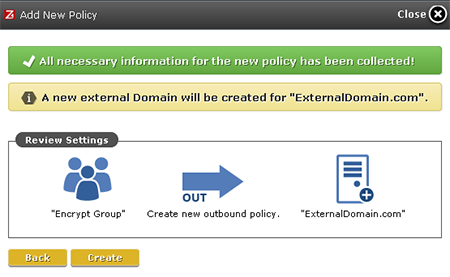 The new Z1 SecureMail Gateway Policy Wizard
Source: Zertificon Solutions
You can find further information at the section Z1 SecureMail Gateway.

Save this press release as a PDF file
Download graphic as a PNG-file (555×342 – 16 KB)