+++

press release

+++
Data exchange: the EU GDPR as an impetus for encryption projects
Berlin, 01. March 2018
Everyone is talking about the EU's imminent General Data Protection Regulation (GDPR). The Regulation becomes effective as of May 25, 2018, and the impact of its conditions on companies will vary according to their size and fields of activity. The overall aim is to ensure the protection of personal information, but it is not enough to guarantee the security of data at rest in a database: the greater risk is to data in transit. It is in this area in particular that the GDPR is demanding the use of state of the art secure technologies. For decades this has included email encryption; now it is experiencing something of a renaissance and the demand for secure solutions for the transfer of large files is also increasing.
As specialists in secure company communications, the Berlin-based firm Zertificon has examined the requirements of the GDPR in detail in order to provide satisfactory answers to the many queries it has thrown up. There is much uncertainty among companies. In Germany it is already the case that personal information should only be transferred in encrypted form as per section 9 of the Federal Data Protection Act (BDSG) – but the BDSG is a toothless tiger. It is a different matter with the EU General Data Protection Regulation, which, in addition to containing a much more specific requirement for encryption, also demands effective sanctions: fines of up to €20 million or 4% of a company's global sales can be imposed, whichever is the greater amount.
Zertificon has published a number of blog entries aimed at helping businesses find their way through the maze of the GDPR, as well as a quick quiz on the new regulations, at the Zertificon blog.
Zertificon also offers solutions for GDPR compliance, Z1 SecureMail Gateway and Z1 SecureHub are simple and trusted solutions for the central encryption of emails and secure transfer of big files. They enable employees to conduct encrypted communications with any recipient with no extra effort. The encryption of data is recorded in logfiles and therefore remains verifiable at any time – thus providing companies with a long-term solution which avoids the risk of sanctions through the GDPR.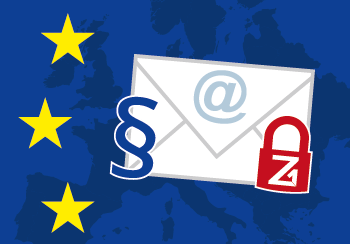 The EU GDPR highlights the issue of email encryption
picture credit: Zertificon Solutions

Save this press release as a PDF file
Download the graphic as a PNG file (1000x696px – 99 KB)