About Zertificon Solutions
A leader in professional email encryption since 2004
Zertificon is a leading manufacturer of IT security solutions located in Berlin, Germany. As an owner run independent business, Zertificon is able to draw upon the robust German data-protection laws to guarantee that truly secure and reliable solutions are developed by its in-house research and development team. Together with the sales and support teams, Zertificon is now proud to employ over 60 staff. Since 2004, Zertificon has been successfully providing security solutions to both small companies and international corporations from diverse industry segments ranging from automotive, banking and insurance to government, manufacturing and pharmaceuticals.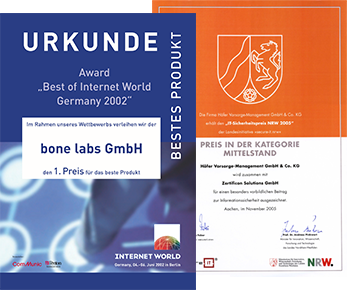 Early days …
The Zertificon Team started in 1998 as an IT service provider in Berlin. The focus switched to server based email encryption and signing in 2001. Shortly afterwards in 2002, Z1 SecureMail Gateway was awarded "Product of the Year" at the e-Commerce Expo "Internet World". In 2004, the company  'Zertificon Solutions GmbH' was founded.
Flexibility, usability & quality
All products within the Z1 family are developed to meet international security standards and deliver high flexibility, simple integration and cost-efficiency. Zertificon's products, services and support are internationally renowned and enjoy a reputation for high quality, efficiency, flexibility and usability.