Become our Partner in the Email Security Business
Work with the leading provider of email encryption solutions in Germany!
Make a difference and partner with IT Security Made in Germany!
Zertificon is a brand that you can trust! Have a look at the meaning of the quality seal we receive every year and see what makes IT Security made in Germany so special.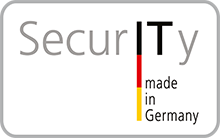 With the very mature and proven solution Z1 SecureMail Gateway Zertificon has been a leader in the email encryption business since 2004 in all german speaking countries. Email technology follows international standards, there is no reason why you would not make zertificon's products a success in your region. With Z1 products you can enrich your portfolio with secure email and secure data transfer solutions which are a perfect fit for all organizations no matter what size or industry! We would love to hear from interested and qualified resellers with a focus on IT-security and also from Application Service Providers that want to host encrypted email services.

Flexible and fair IT-Security Reseller and Service Partner Model
We understand that smaller system houses or independent sales shops can not provide the same amount of dedication and expertise to one product as larger companies and chains that may employ specialists for various products. This is why we have developed a partner model with different classifications that should suit all interested parties. For further information about the sales partnership model and conditions contact us directly.
Marketing Collateral and Personal Support
We help you to gain customers and to keep them happy. You will receive a mandatory training free of charge and high-class collateral such as glossy product flyers, banners or posters for POS. We give you extra technical presales support for important appointments and are available for phone conferences with the prospects and on special events we might even might join you at a trade show.
Or just give us a call +49 30 / 5900 300-30!