Zertificon White Papers
Learn about the latest mail encryption technology and gain new insights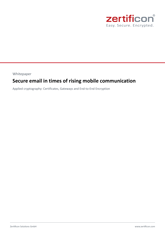 Secure email in times of rising mobile communication
Applied cryptography: Certificates, Gateways & End-to-End Encryption
This white paper explains the basic concepts of public key infrastructures and their use for email encyption. It introduces server based encryption concepts as well as the latest technologies in corporate end-to-end email encryption.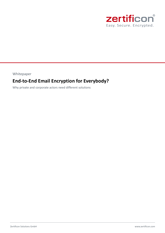 End-to-End Email Encryption for Everybody?
Why private individuals and corporations need different solutions
End-to-end encryption is the standard form of email encryption for private users, whereas end-to-end encryption in the corporate world is a very different matter. This white paper opens perspectives and introduces a new concept for end-to-end encryption which satisfies business needs with regard to compliance, efficiency and usability.