Secure large file transfer

send data instantly, easily and securely
universal browser support
no registration or software installation
retain your data on-site – not in the cloud
Z1 SecureHub encrypts large files for secure data transfer. Be it graphics, videos or whole databases, no matter what data format you want to exchange, Z1 SecureHub is the easy and secure on-premise FTP alternative. Give your employees and business partners instant access to bi-directional secure large file transfer without any complex software installation. Send and receive sensitive data with the assurance that it cannot be accessed by 3rd parties. Data protection and compliance including GDPR are supported with log-file evidence.
Secure Managed File Transfer made in Germany
Z1 SecureHub is focused on usability and security. Zertificon's products bear the "IT Security made in Germany" quality seal guaranteeing security throughout the complete product portfolio. If you choose to pay with your data, you are most certainly paying too much and you are not GDPR compliant.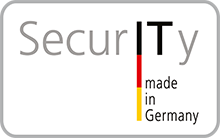 How does it work?
Secure Managed File Transfer (MFT)

Z1 SecureHub is a secure FTP alternative. High security and privacy are guaranteed through the use of proven encryption techniques. Uploads and downloads are protected by secure transport protocols and files are encrypted by Z1 SecureHub within the company network, preventing any unencrypted data from ending up on external servers.
Access to Z1 SecureHub can be managed on the basis of directory entries. External users can be given full access to the system to streamline communication in longer projects. Z1 SecureHub administration is easy and fully browser based. Admins have access to detailed monitoring data. Z1 SecureHub comes with German and English language packs. For the user interface and notifications other languages can be easily added.
Low Total Cost of Ownership through Z1 Appliance deployment
Z1 SecureHub can be deployed as a Z1 Appliance (dedicated hardware or virtual machine). Managed Security Providers can operate Z1 SecureHub as a secure Cloud Service permitting economical integration into IT infrastructures for companies of all sizes.
Z1 SecureHub Key Facts
On-premises large file transfer solution
Web-based interface – no end-user installation required
High user acceptance through intuitive and simple usability
Instantly available for all employees and business partners
Flexible security levels
Extensive user file management
Full functionality for selected external contacts
Easy customizing and language options
GDPR Compliance 
Optional plugin Z1 MyCrypt BigAttach
Start your Z1 SecureHub request today

Apps & Plug-ins for data transfer
With Z1 MyCrypt, large email attachments can be automatically transferred using the power and security of Z1 SecureHub. Configure a specific file size to define which files will automatically be sent via Z1 SecureHub to meet your individual requirements. Z1 MyCrypt is available as an add-in for common email clients such as MS Outlook and Lotus Notes as well as a mobile app for iOS and Android.