COMMENTS & CAMPAIGNS 20. APR 2022
1000 euro headhunter prize to Edward Snowden
We donate 1000 euro to Edward Snowden for every new employee who refers to him in their Zertificon application – After a successful probation period.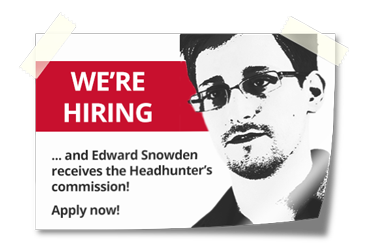 Why did we make Edward Snowden a designated donation recipient?
Edward Snowden's whistle-blowing sure has sparked worldwide controversy. But in the IT security field in general – and at Zertificon in particular – we can only view him as a hero who fiercely championed every individual's right to information privacy.
In fact, at Zertificon, we develop highly specialized security software based on Public Key Infrastructure (PKI) technology that Snowden has recommended on several occasions. So when IT developers go against the trend of joining consumer start-ups and instead opt for IT security in a medium-sized company, we believe Edward Snowden might have had a monumental impact in influencing such decisions.
Although headhunters are typically more handsomely rewarded, as a self-financed medium-sized company, we don't have any investors that would provide large amounts of money for a recruiting campaign. We have been profitable and earning every cent ourselves since 2004.
But that's not the only thing that distinguishes us in the competition for IT talent. Zertificon is the bearer of the "IT Security Made in Germany" quality seal. With this seal, we make it clear that outsourcing development tasks to third-party vendors in other countries, as is common in IT, is out of the question for us.

We secure the electronic communication of businesses and organizations: If you believe that data privacy is a human right, you will feel right at home with Zertificon. We are always on the lookout for talented people who can help us expand our mission and portfolio! So spread the word and let your IT contacts know: If you want to take your career to the next level, consider joining our highly skilled team, and mention Edward Snowden in some way in your application to stand out.
Our current job postings are available at: www.zertificon.com/jobs