PKI Certificate Server

Central administration of X.509 certificates and OpenPGP keys.
Search, find, validate and publish.
Highly automated for users and applications
Z1 CertServer brings public certificates to your users. It searches the most common and popular global directories for certificates or OpenPGP keys and performs real-time validation before making them available to your users and applications. In certificate and public key matters you can fully trust  Z1 CertServer – you will experience the security of public key infrastructures with efficiency and ease of use.
Search, find and validate certificates
Email security does not just involve having access to the keys and certificates from external communication partners. It is also necessary to verify the validity and integrity of the certificate or key. Within an organization it is impossible to outsource the validation and integrity checking of certificates to individual employees who would end up having to check each individual certificate prior to sending an email. The problem is solved with a central Certificate Server which automates the search and management of public X.509 certificates and PGP keys. This works as a telephone book for certificates with the added benefit that all entries are continuously checked to make sure that they are up to date and valid. The certificate validation is performed in real time against CRL and OCSP revocation lists published by Certificate Authorities and company CAs. Z1 SecureMail Gateway and Z1 SecureMail End2End integrate Zertificon's Z1 CertServer for central certificate management. The Z1 CertServer is also available as a standalone product.  
How does it work?
Certificate Authority & Directory Services
Connections to a huge number of Certificate Authorities, sub-CAs and LDAP directories for certificate validation are pre-configured in Z1 CertServer giving access to a world-wide network of keys and certificates out of the box. New certificate authorities, LDAP and corporate directories can be easily added as required.
Publish certificates
The publishing and distribution process of your own certificates is easily done with Z1 CertServer. It can be configured to publish automatically. Users can also publish manually via the "Certificate Portal" user interface with a simple copy and paste or "browse files" action.
Central certificate hub for internal and external users
Embed Z1 CertServer as a certificate portal into your existing web sites. Employees and communication partners can use the certificate portal to search for published certificates and to publish their own certificates. Security can be enhanced by limiting access to certificates for different user profiles. Z1 CertServer allows you to easily lever the potential of eBusiness solutions to their full advantage.
Z1 Global TrustPoint
a public Z1 CertServer installation
Z1 Global TrustPoint is operated by Zertificon as a public certificate and key search portal. You can easily try the manual certificate search and validation features with our public search engine Z1 Global TrustPoint.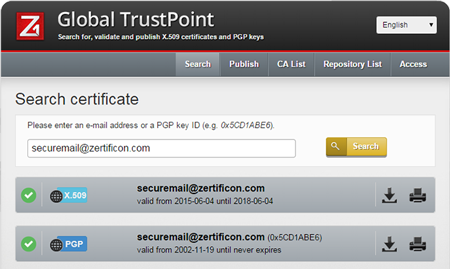 Z1 CertServer at a glance:
Z1 CertServer a central database containing public X.509 Certificates and OpenPGP keys for communication partners.
Z1 CertPortal enables easy manual certificate search and validation

Configurable 

access rights
Trustcenter and LDAP directories are pre-configured & extensible
Provides the CertServer-API interface – turning eBusiness systems and other applications into "PKI Enabled Applications" (PKA)
Z1 CertServer-API interface available as Java class library and C++ library
standard HTTP and LDAP interfaces available to existing applications.
A basic Z1 CertServer is part of every Z1 SecureMail Gateway which has been licensed for PKI based encryption. For further information about a standalone Z1 CertServer installation please use the free text area in our enquiry form.