Email Encryption & Digital Signing
for large, medium and small businesses
from the leading manufacturer in Germany

Encrypt and Sign Confidential Emails
– easily at any time with anyone –
effective protection against economic and industrial espionage
Z1 SecureMail Gateway is highly automated, fail safe and encrypts emails faultlessly. Depending on the recipients capabilties, emails will be secured using PKI encryption or alternative secure delivery methods. You will be able to communicate securely no matter what. Your communication partners do not need to run a gateway and no special software needs to be installed. – all that's needed is an email address.
Industrial espionage defense
Z1 SecureMail Gateway provides you with military grade encryption, enabling effective protection against industrial espionage and foreign governmental spy programs. Even if providers are obliged to pass your data to secret agencies all they can provide is illegible text: encrypted data.
Easy Mail Compliance
Don't worry about personal liability in IT compliance issues. Centrally configurable security policies (Z1 Policies) make sure you don't need to rely on the judgement of individual employees when dealing with highly sensitive information. You don't even need to invest in any IT Security awareness training for confidential email exchange. With Z1 SecureMail Gateway policies there won't be any compliance violations due to accidental misuse or forgotten encryption operations. All security actions are traceable through always-on logging and monitoring in the graphical administration web interface.
Maximum Email Security – Made in Germany
Z1 SecureMail Gateway utilizes open standards with the maximum possible key length, which are recognized and recommended by experts worldwide. It also utilizes common software such as the PDF format for secure delivery. You get maximum protection paired with efficiency and great usability, in a nutshell: State of the Art email encryption.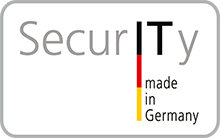 How does it work?
Centralized Email Encryption and Signature

Z1 SecureMail Gateway integrates seamlessly into the existing email infrastructure as an SMTP proxy and processes the complete company-wide email traffic. It operates as a virtual mail room – processing incoming and preparing outgoing mail. The Z1 Gateway encrypts and signs outgoing mail whilst decrypting and validating the signature of incoming items. Suspicious emails are automatically blocked and the internal recipient informed. The complete mail processing is performed according to highly flexible "Z1 Policies" which can be fully configured using the web-based administration interface. Z1 Gateway works silently and transparently in the background. Sending and receiving emails remains the same for employees.
PKI and password based encryption
The Z1 Gateway is fully S/MIME and PGP compliant. For communication partners who don't have a PKI, messages are delivered automatically using keyless password based encryption. When coupled with Z1 SecureMail End2End the Gateway solution delivers full state of the art End2End Encryption directly to employees and communication partners. Z1 Gateway is highly scalable and simple to integrate into existing email infrastructures with anti-spam and anti-virus solutions. The high-speed real-time processing and fail-over capabilities support mission critical environments & dovetail with business continuity planning.
Sign up for trust with digital email signatures
Digital signatures build up trust in digital communications. A signature proves that the email sender is the true origin of an mail and that the email has not been manipulated during transfer
.
Digital Signatures in the Corporate World
By using a centralized secure email gateway, email signatures are easily and automatically added to each mail which leaves the company whilst incoming mail signatures are validated. The complete signing task takes place directly on the gateway and employees are informed should a mail arrive with an invalid signature or modified content. The processing of signatures is controlled centrally by easily configurable policies. It is possible for example to remove valid signatures from emails. And the complete email can simply be blocked if its signature is not valid.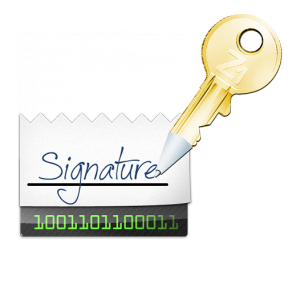 Thr private key is used for signing.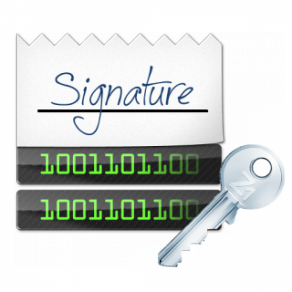 The public key is used for validation.
Non-Repudiation – Proving who sent it!
An email signature gives emails a binding character as it is almost impossible for the true sender to deny that they are the source of a specific email. In addition, the time the message was sent and any changes to the content can all be proven at a later point in time. Digital signatures make a statement that has been sent in an email non-repudiable.
Alternative internal integrity checking
PDF signing integrated into Z1 SecureMail Gateway for inbound PDF fraud protection and simple verification with common PDF readers (e.g. Adobe Reader).
Protection from Phishing Attack & Email Manipulation
Phishing emails are fraudulent emails which are designed to trick the recipient into divulging sensitive information such as password or account details. Usually they are distributed with false sender details which are selected to abuse the trust the recipient has in the selected sender. Spear phishing is a more perfidious method which directly targets employees within an organization. Other types of email fraud attempt to intercept emails and to modify the content to the advantage of the criminal. Z1 SecureMail Gateway automates and executes the validation of incoming email signatures and provides the recipient with a warning should the email show signs of manipulation or be a potential phishing attack. The chance of being the victim of a phishing attack is significantly reduced when email signatures are used across the board and together with partners and clients.
Advanced Electronic Signature using Qualified Certificates
From a legal point of view, advanced signatures which are based upon qualified signatures are the same as signing a document by hand. For this reason, qualified signatures are only applied to documents. Digital email signatures are analogue to an envelope seal. Z1 SecureMail Gateway can automatically and centrally sign emails. Both digital email signatures as well as qualified signatures in attachments can be verified in inbound emails.
Z1 SecureMail Gateway at a glance:
Key functions:
Central email encryption and digital signing with PKI (S/MIME, OpenPGP )
Secure Delivery with keyless encryption using passwords
Self-Service user password management with customizable user front-end
Automatic key and certificate administration for users, group and domains
Automatic certificate search and real-time validation
Centrally configurable poilicies for compliance enforcement
Optional user commands
Gateway-to-Gateway encryption
Secure Transport via TLS and VPN
Advantages:
Flexible integration into all environments, including MS Office 365
Rapid installation within hours into standard infrastructures
Centralization of company-wide security policies
Transparent for internal users – no training required
Optimized Z1 Appliance Platform with full service
Minimum administration and maintenance.
Flexible scalability
High performance, load balancing and redundancy
Cluster capable
Multi-tenancy
Options:
Internal & End-to-End Encryption & digital signing
Synchronization with ERP directories e.g. Active Directory, Lotus Notes
Attachment processing including proprietary formats. e.g. EDI, CAD
Managed PKI – direct connection to Certificate Authorities
De-Mail and Governikus connection; further connections available on request
Integration of Hardware Security Modules (HSM)

Complete Email Encryption Solution for SMB/SME up to 50 Users
Whether you are a doctor and need to send patient data securely via email or you are an attorney who needs to exchange sensitive data with clients and officials or if you are in contact with a large enterprise asking you to encrypt – with Z1 SecureMail Easy you found the right solution! Z1 SecureMail Easy is your secure communication solution for the electronic exchange of personal data according to the
EU GDPR
. For differences between "Easy" and Z1 SecureMail Gateway see our
product comparison
table.
Secure emails with business partners and end customers
With Z1 SecureMail Easy you write your emails as usual, but they automatically are delivered as
password-encrypted PDFs that look like emails
or alternatively via a
secure Z1 Messenger email account
. Z1 SecureMail Easy also features a confidential email answer functionality for your contacts.
To exchange emails with contacts who already use professional encryption solutions with
S/MIME certificates
or
OpenPGP keys
, choose Z1 SecureMail Easy with
PKI technology
.
Your advantages at a glance
confidential emails with business partners and end customers
compliant with EU General Data Protection Regulation
easy installation & administration
automated email encryption & decryption
automated signing & signature validation
Z1 SecureMail Easy – Minimum Technical Requirements
personal domain, no freemailer addresses (e.g. gmail.com or yahoo.com)
personal mail server either local (on-premise) or cloud-based (e.g. Microsoft Office 365 or Google G Suite) to set up routing
dedicated line / fixed IP address to use full range of functions (limited functionalities for DSL customers)
If you do not meet the minimum requirements yet, for a start we recommend Z1 CryptNow our free encryption tool for individual users.